BRAVENLY BALANCE
You won't find a more comprehensive and supportive supplement. This beverage is formulated with over 50 carefully selected ingredients that make up 9 powerful blends for high potency and bioavailability.
Our Balance powder may look like greens, but the ingredients and benefits go way beyond your average veggie supplement.
USD$99.99 RETAIL
USD$89.99 AMBASSADOR
BALANCE
Add some BALANCE to your life! This innovative beverage is formulated with over 50 carefully selected high-impact ingredients!
DOWNLOAD PDF
DETAILS
Good luck finding a more comprehensive and supportive supplement. This beverage is formulated with over 50 carefully selected ingredients that make up 9 powerful blends for high potency and optimal vitality.†
HOW TO USE
DIRECTIONS:
Mix 1 scoop into an 8oz glass of water, favorite juice or smoothie, blend well, enjoy!
*Pregnant or nursing mothers, children under the age of 18 and individuals with a known medical condition should consult with a physician before using this or any dietary supplement. Storage: Do not use if safety seal is damaged or missing. Store in a cool, dry place, away from heat/moisture.
EASY-SHIP
When this item is purchased, you will not automatically be placed on Easy-Ship for this product. When you add products to your Easy-Ship, the price that you pay the first time is the price you will continue to pay, as long as your Easy-Ship is activated.
To avoid any recurring charges & product shipments, simply forgo setting up an Easy-Ship.
Easy-Ship is the best way for you to get products to your front door every month without a hassle! But don't worry, we don't require it! Manage your Bravenly Easy-Ship order with ease right from your own Back Office! Questions or concerns about Easy-Ship? Our Bravenly Support Team is happy to help! support@bravenlyglobal.com
"Balance is my daily dose off ALL the things I need but don't usually have time to worry about. Now I get it all in one delicious berry drink! Less stress, better immunity, increased metabolism and no seaweed taste. That's a huge win!!!"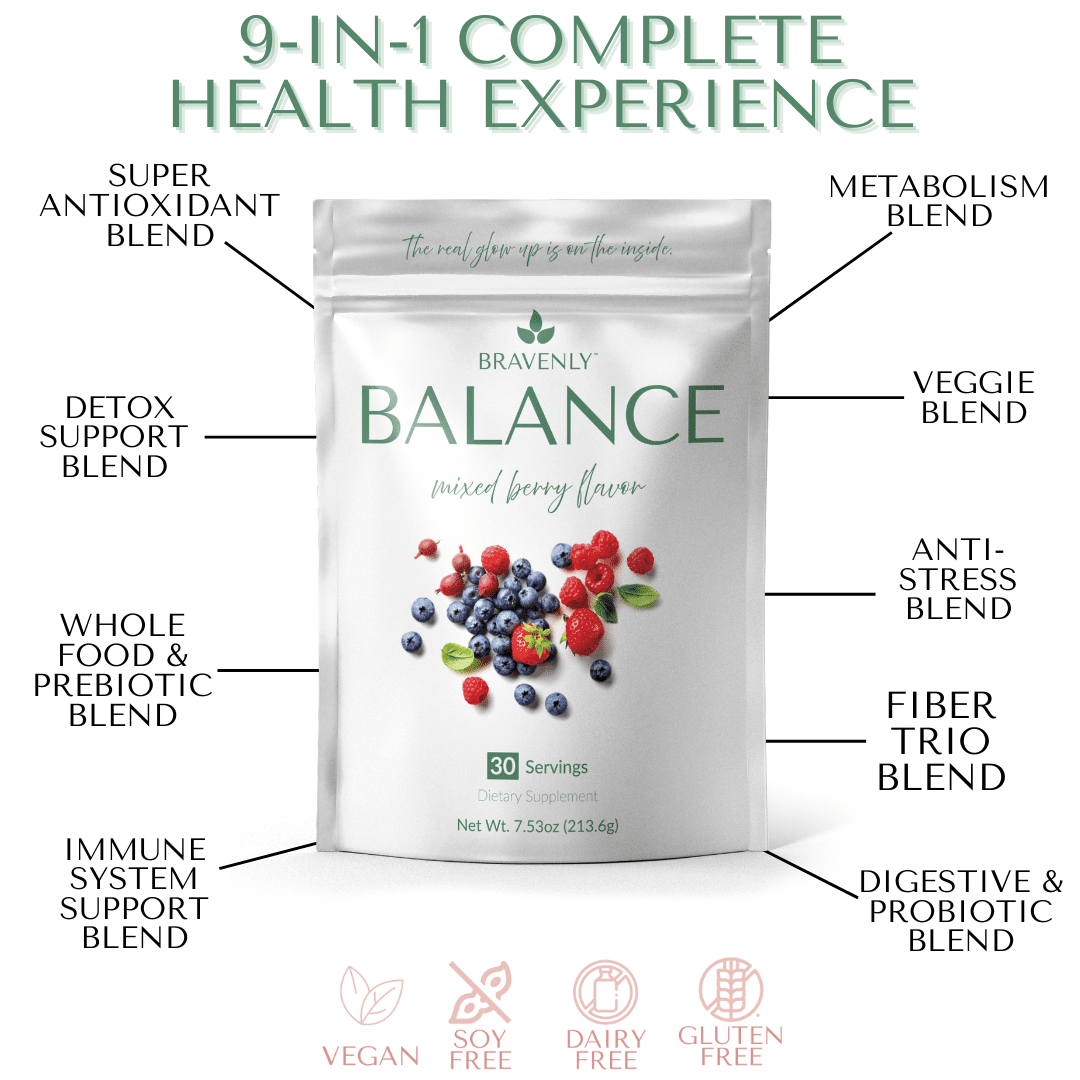 BRAVENLY ANTI-STRESS BLEND
Maca Root Powder, Rhodiola Rosea Extract, Organic Ashwagandha Powder, and Bacopa Monnieri Extract Powder
BRAVENLY SUPER ANTIOXIDANT BLEND
Pomegranate Fruit Powder, Acai Berry Powder, Organic Moringa Powder, Carrot Powder, Organic Beet Root Powder, Raspberry, Fruit Powder, Rose Hips Powder, Pineapple Fruit Powder, and Acerola Cherry Powder
BRAVENLY WHOLE FOOD & PREBIOTIC BLEND
Wheat Grass Juice Powder, Organic Inulin, Barley Grass Powder, Alfalfa Powder, Spirulina, Algae Powder, Spinach Powder, Chlorella Powder, and Broccoli Powder.
BRAVENLY FIBER TRIO BLEND
Sunflower Lecithin Powder, Flax Seed Powder, and Apple Pectin Powder
BRAVENLY IMMUNE SYSTEM SUPPORT BLEND
Echinacea Angustofolia Root Powder, Astragalus Root Powder, and Reishi Powder
BRAVENLY METABOLISM BLEND
Green Coffee Bean Extract, Ginger Root Powder, Green Tea Extract, White Tea Powder, Organic Matcha Green Tea Powder, Black Tea Extract, Yerba Mate, Goji Berries, Caralluma Fimbriata, and Gymnema Sylvestre
BRAVENLY VEGGIE BLEND
Tomato Powder, Cauliflower Powder, Brussel Sprout Powder, and Parsley Leaf Powder
BRAVENLY DETOX SUPPORT BLEND
Milk Thistle Powder, Cilantro Powder, and Turmeric Root Powder
BRAVENLY DIGESTIVE & PROBIOTIC BLEND
Lactobacillus Acidophillus (5Billion CFU/g), Protease 5,000 HUT/G, Amylase (5,000 SKB/G), Lipase (1,000 FIP/G), Lactase (1,000), and Cellulase (1,000 CU/G)
†These statements have not been evaluated by the Food and Drug Administration (FDA). This product is not intended to diagnose, treat, cure, or prevent any disease.